Final Training Day for the Year!
The last Chin Woo event for 2018 will be our December Training Day at Wilkins Public School, Marrickville on Sunday, 16th December.
Training will start at 9am, where you can join in Gong Li Quan, Yang Tai Chi, Yang Tai Chi sword and others. As this is the last day of the year, we will be having a small party/morning tea from around 11:00am. Bring a plate of food and catch up with your fellow Chin Woo members to say goodbye to 2018!
Hope to see you there!
---
Happy ChinWoo Christmas Party !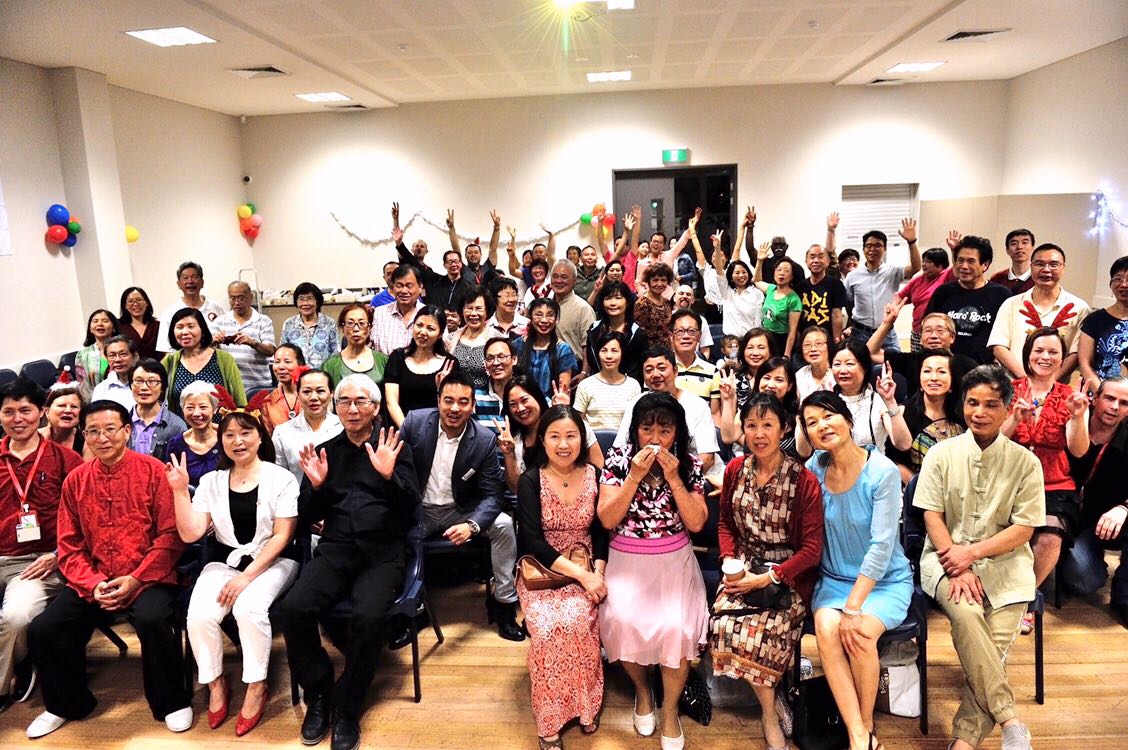 On December 2, 2018, ChinWoo held an annual Christmas Party at the Ryde Community Center. More than 100 guests, including members, family and friends of Chin Woo groups attended! And Ryde deputy mayor Simon Zhou made a special speech to celebrate. MC Angela presented a video with highlights from 2018 Chinwoo events which was interesting and entertaining. This year, ChinWoo has relied on the support of many enthusiastic groups and people in the society, and has achieved good results in all aspects! At the party, everyone enjoyed the wonderful performances together and tasted a variety of delicacies brought to share by the guests. Finally, we also sang and danced together and had a wonderful evening! In the coming year, we wish that the ChinWoo Association will be able to get more support from the enthusiastic people of the society and be able to unite more groups in the cultural circle to better carry forward and promote the traditional Chinese culture!
---
We're having a Christmas Party !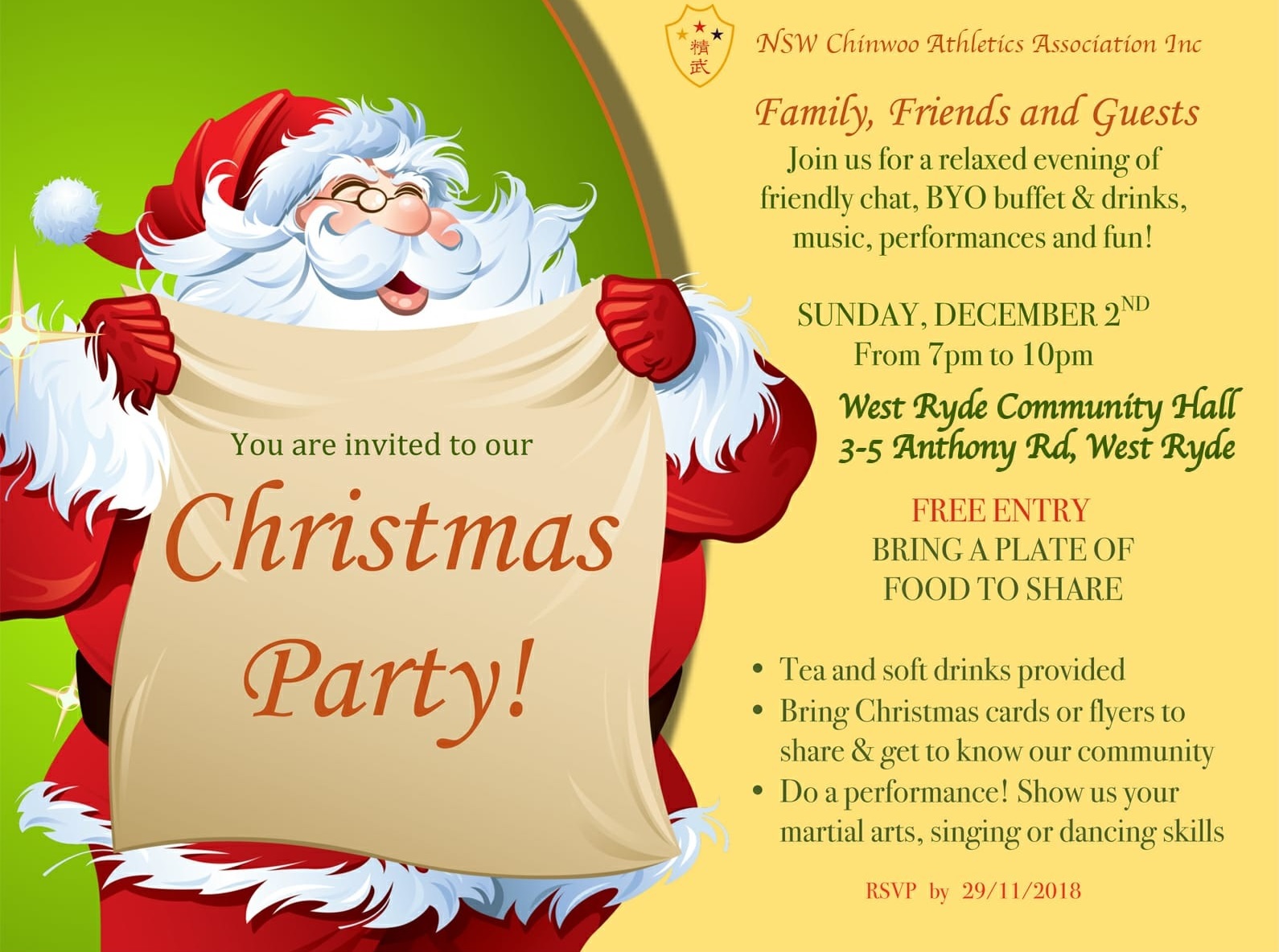 Everyone is welcome!
Entry is FREE.
It will be casual and relaxed, so everyone can chat and socialise with our kungfu family!
Join in with kungfu or tai chi performances, singing and dancing, or just come for a catch up.
Please BRING A PLATE OF FOOD to share!
If you want to do a martial arts performance, or singing or dancing, please let us know!
Register with Desmond for all performances and activities.
Please RSVP to Shifu Alice, Desmond or Krista by 29th November.
Location: West Ryde Community Hall
Address: 3-5 Anthony Rd, West Ryde
Date: Sunday, 2nd December 2018
Time: 7pm to 10pm
---
November 11th Training Day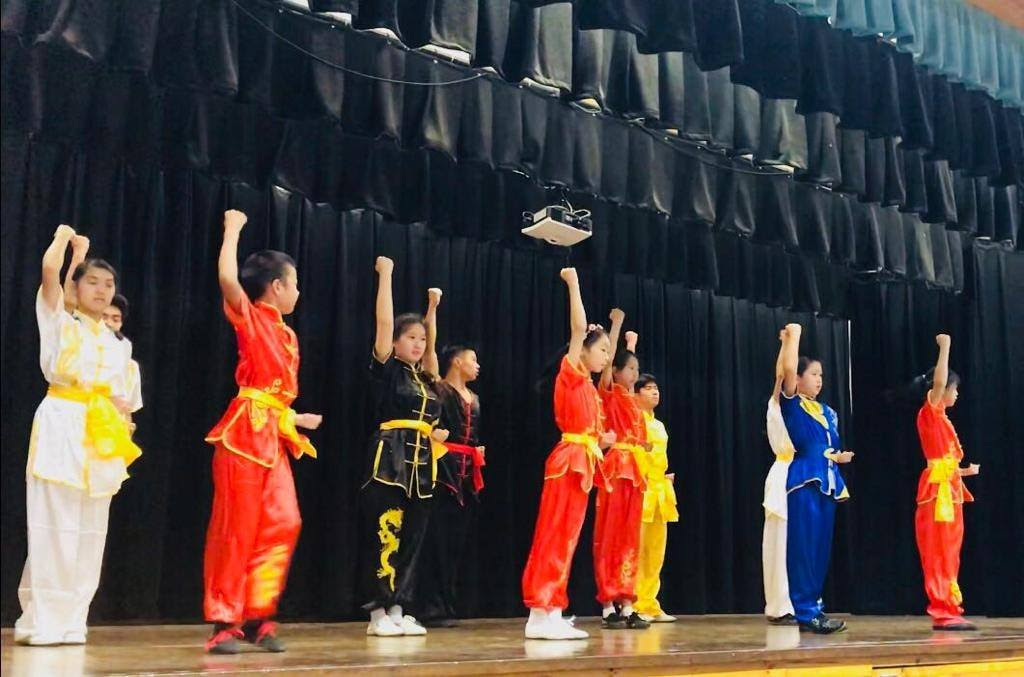 This month's Training Day will be taking place on Sunday 11th November. The session begins at 10:30am at Wilkins Public School in Marrickville. Entrance is free with optional donation.
Hope to see you all there!
Location: Wilkins Public School
Address: 31 Park Rd, Marrickville NSW 2204
Date: 2018 Nov 11
Time: 10:30am to 12:30pm
---
October 14th Training Day

NSW Chin Woo will be holding another open training day at Wilkins Public School, Marrickville on October 14th. The event starts at 10:30am and is open to NSW Chin Woo members and friends. Once again we will be leading a group instruction of Gong Li Quan for those interested. Hope to see you all there!
Location: Wilkins Public School
Address: 31 Park Rd, Marrickville NSW 2204
Date: 2018 Oct 14
Time: 10:30am to 12:30pm
---
Chin Woo Drought Relief Fundraiser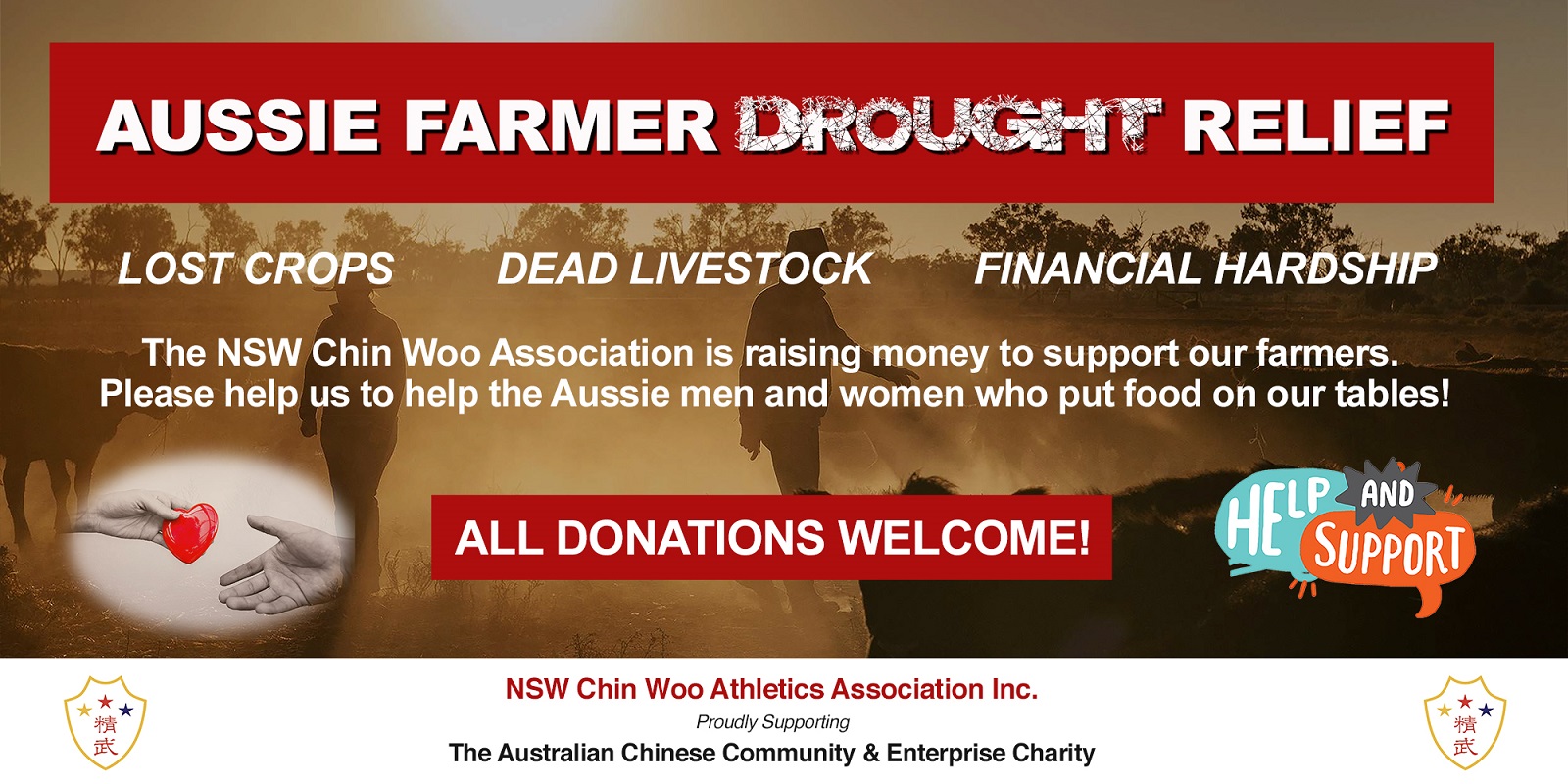 The Chinwoo Athletics Association of NSW will be holding a fundraising event to support drought affected farmers in Australia's rural areas. This fundraiser will be held at the Eastwood shopping centre piazza on the 16th of September 2018, between 2-4pm. The event will feature many spectacular performances of Chinese Kungfu of different styles, by Masters and their students.
This event is being held by Chin Woo Athletics Association, because improving the well-being of all people in our country is a core Chin Woo value. All profits will go directly to the 2018 Australia Chinese Community and Enterprise Charity for Australia Drought-Affected Farmers.
Location: Eastwood Plaza
Address: 137 Rowe St, Eastwood, Sydney 2122
Date: 2018 Sept 16
Time: 2:00pm to 4:00pm
Telephone: 0414 281 098
---
Sydney 2018 Youth Chinese Kung Fu Heroes Exhibition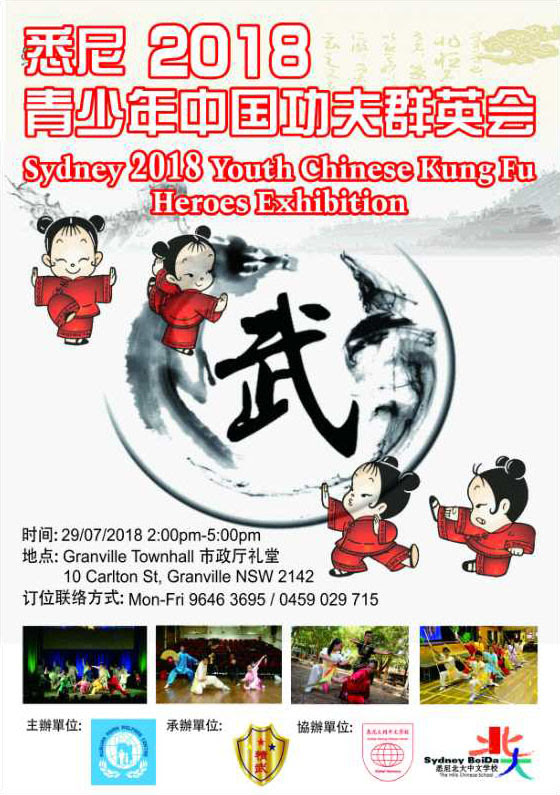 The Asian Welfare Centre will be holding a special youth event on July 29th, showcasing Chinese martial arts at Granville Town Hall from 2:00pm to 5:00pm.
This event will featured performances and demonstrations of authentic Chinese Kung Fu, intended to encourage young people to learn more about traditional Chinese culture and spread the fitness and mental health benefits inherent to the practice of Chinese martial arts.
The Youth Group has been organised by the Asian Welfare Centre and will hosted by the NSW Chin Woo Athletics Association, Pekin University Chinese School and Datong Chinese School.
Demonstrations will include bare-hand martial arts and weapons including sword and staff. Also featured on the program will be commentary and explanation of the styles and techniques on display, to give the audience a greater understanding of Chinese Kung Fu.
Location: Granville Town Hall
Address: 10 Carlton St, Granville NSW 2142
Date: 2018 July 29
Time: 2:00pm to 5:00pm
Telephone: 0414 281 098
---
Huo Yuanjia's Birthday 150 Year Anniversary Celebaration and Athlete Farewell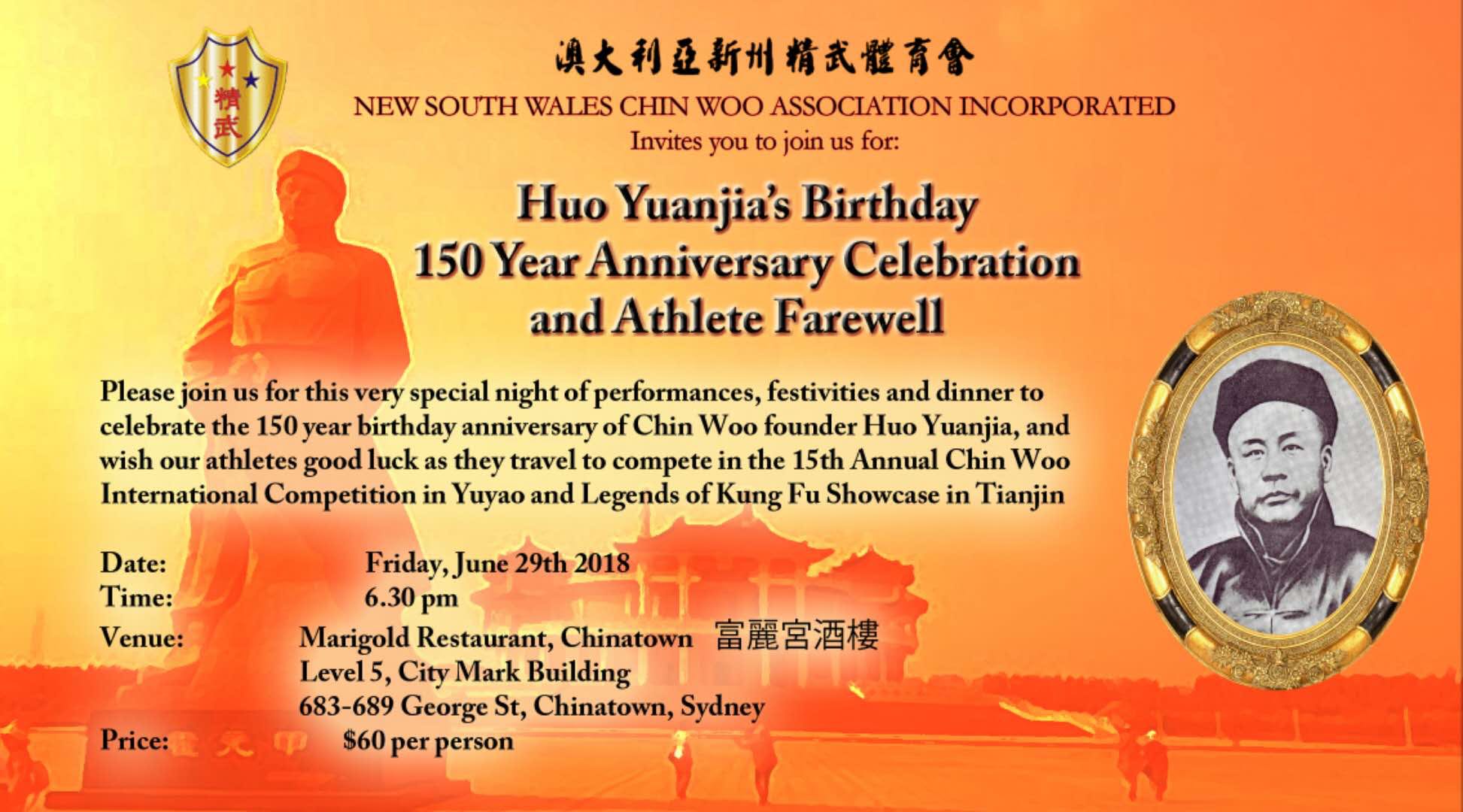 ---
Workshop of Gongli Quan is coming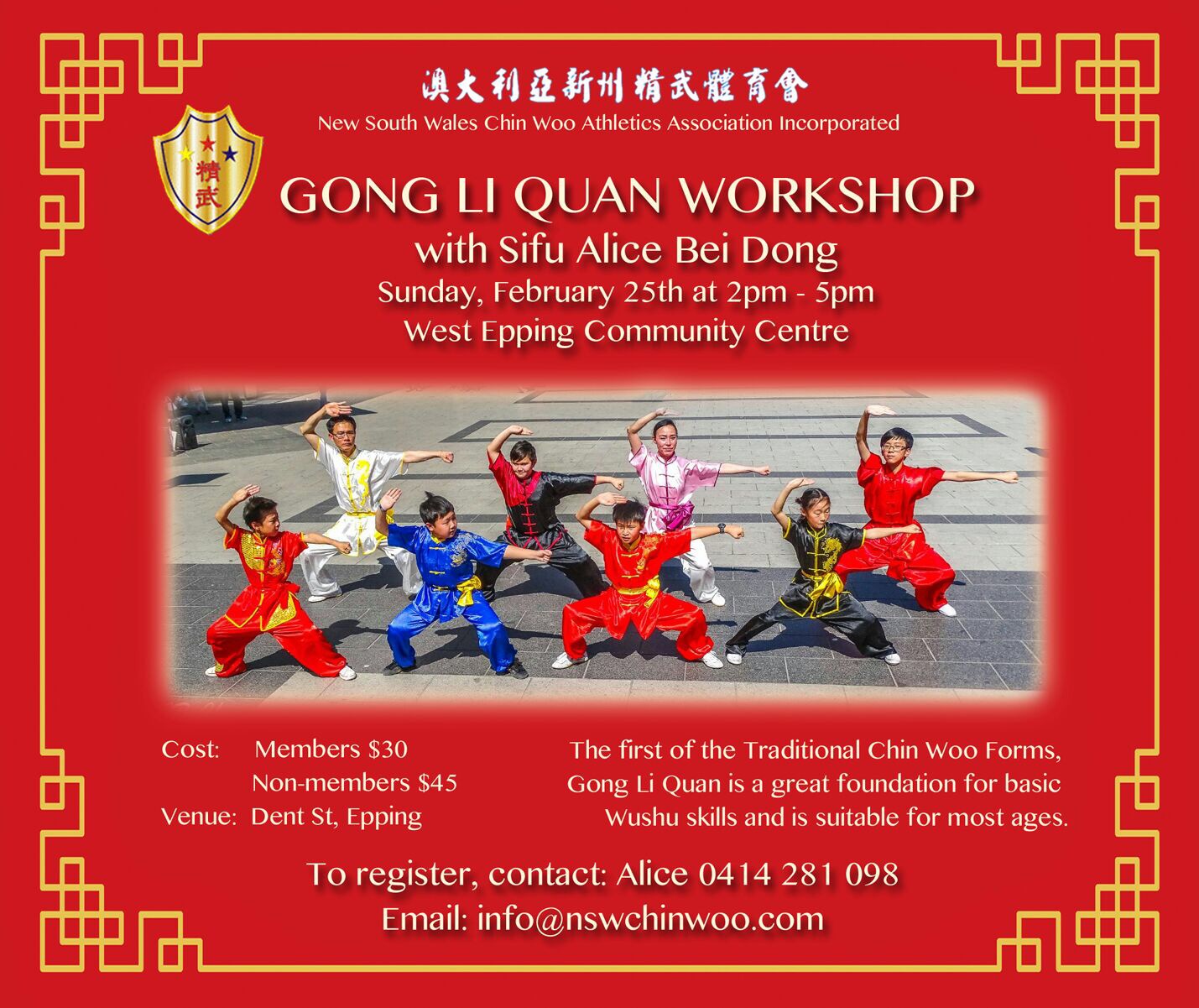 ---
Australia Day Celebration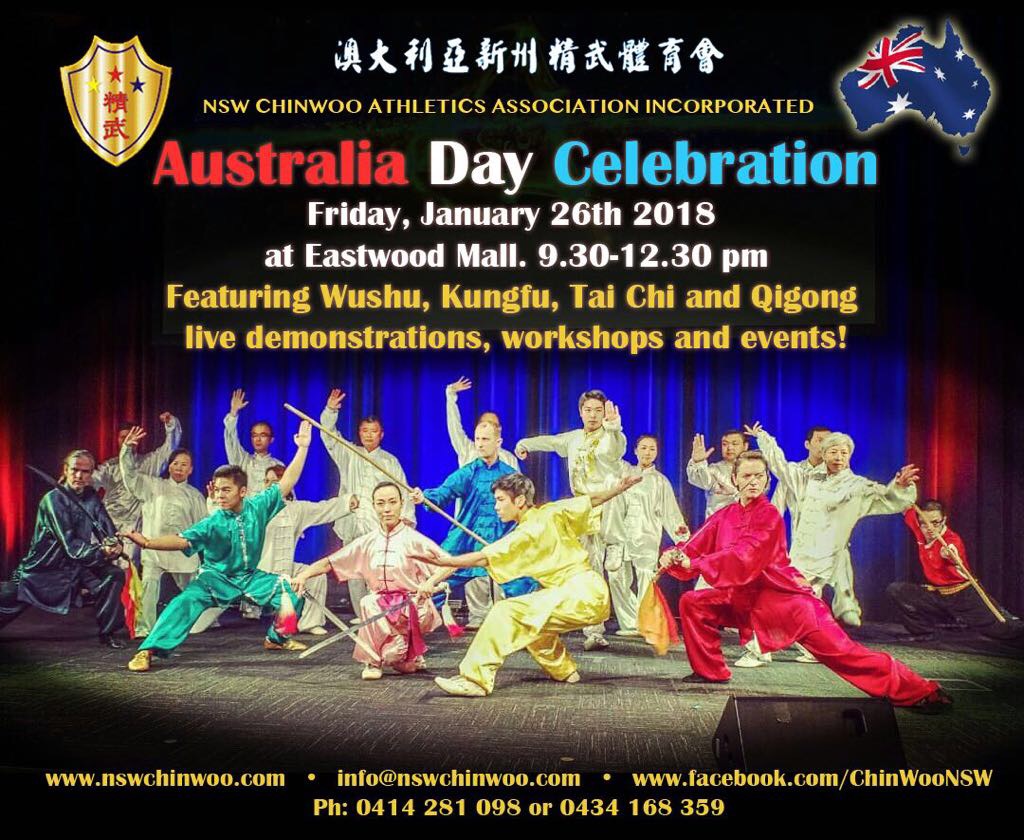 ---
Shanghai Baguazhang Association visit Sydney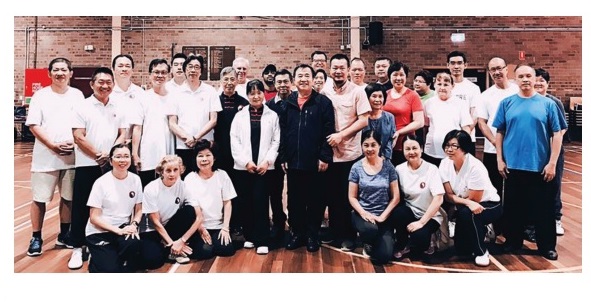 ---
Celebration of 40th Anniversary of NSW Chin Woo Athletic Association
100th Birthday Anniversary of Li Yiu-Ling Sifu