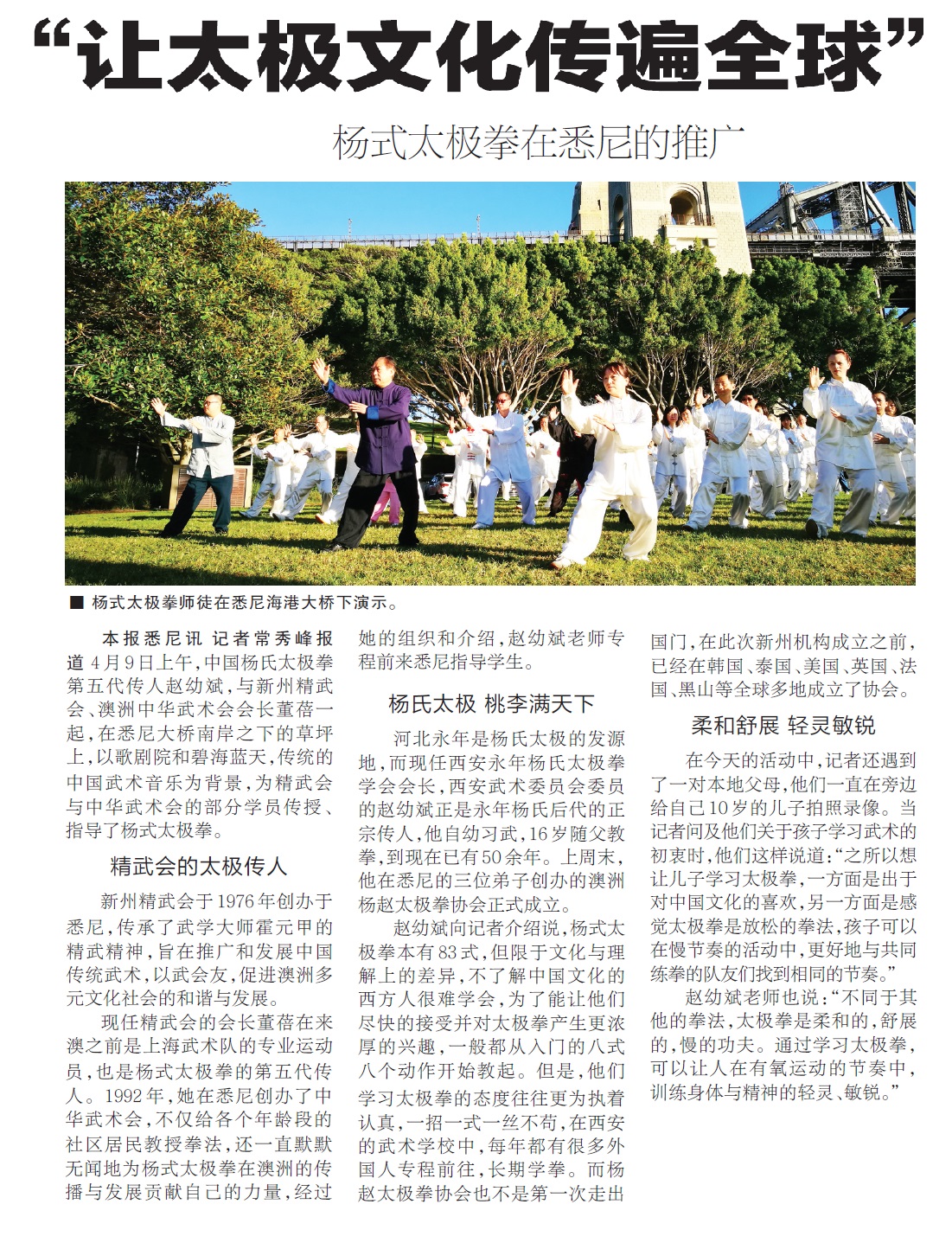 source: www.xkb.com.au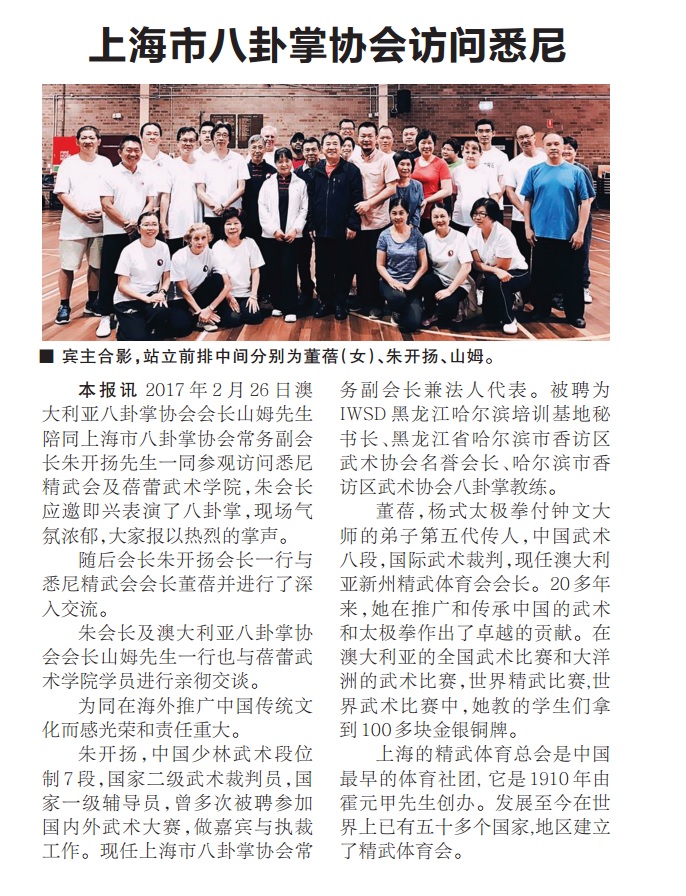 Source: http://www.xkb.com.au

Source: http://xkb.com.au/html/cnc/shetuandongtai/2016/1108/180584.html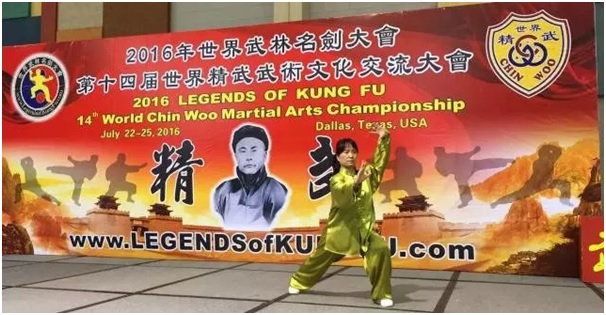 第十四屆世界精武武術文化大會7月22日-25日在美國達拉斯隆重舉行, 澳大利亞代表團21日由澳大利亞新洲精武會會長董蓓師傅(Master Alice Dong)帶隊抵達, 並在當天下午參加世界精武聯誼會會長會議及代表澳大利亞參加了開幕式演出,贏得了全場熱烈的掌聲。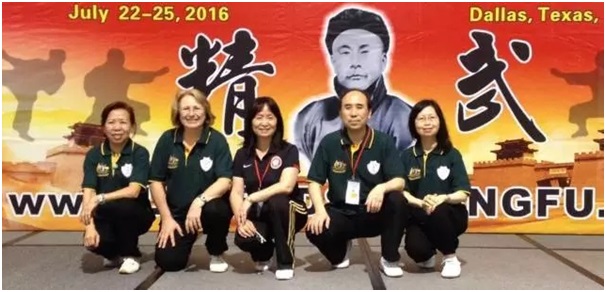 世界精武聯誼會擁有18個國家和地區42個成員,構架起世界性武術文化交流的橋樑。在本屆世界精武聯誼會會長聯席會議上通過了下一屆(第十五屆)2018年世界精武武術文化大會將由中國浙江餘姚精武會承辦。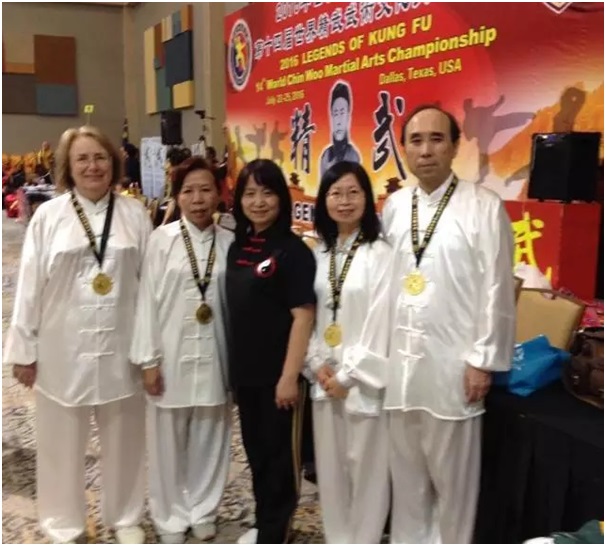 在本次精武大會上,澳大利亞代表隊一共獲得6金,1銀,1銅的優異成績通過這次交流令各國代表隊增進了友誼,提高了各自武藝,如今本屆精武大會雖然落幕,但尚武精神依舊激勵著各位武術事業者繼續奮鬥!
Chin Woo is one of the earliest community sport organisations in China for the promotion of traditional Chinese martial arts. The Shanghai Chin Woo Athletics Association is the first Chinese martial arts association founded in 1910 by Huo Yuanjia. Many Chin Woo Athletics Associations have since established in over 50 countries around the world. The Australia Chin Woo has been established in Sydney since 1976. In the last 40 years the NSW Chin Woo Athletics Association, a non-profit organisation, has created a good platform to unite all martial art organisations, with the same aims of promoting Chinese Wushu culture and developing a harmonious multicultural society in Australia.
The first World Chin Woo Championship was held in Shanghai in 1990 and it was decided that such an important cultural event should be held once every two years. In October 2012 and August 2014, the 12th and 13th World Chin Woo Championships were successfully held in Tianjin and Shanghai China, respectively. The NSW Chin Woo Athletics Association assembled a dedicated Chin Woo Wushu Team to participate in these two international events and obtained outstanding results. This year, the World Chin Woo Martial Arts and Championship and Cultural Festival will take place in July 22-25, 2016 at Dallas, Texas, USA. All Chin Woo members around the world are welcome to participate in competitions for traditional kung fu and tai chi, wushu, wing chun, sparring and push hands, sanda and chi-shou. We are looking forward to have more members to form a NSW Chin Woo Team to attend this World event in the USA.
Please visit the NSW Chin Woo website http://www.nswchinwoo.com for further details.
Contact Alice 0414281098.
The New South Wales Chin Woo Athletics Association has carried on the Chin Woo spirit and has been working hard to promote the traditional Chinese wushu culture. Alice Dong, President of NSW Chin Woo, has recognized that tai chi exercise is worthy to advocate and promote as a community recreation activity. In the celebration of 2016 Australia Day, simultaneously promoting tai chi exercise for health and spreading the Chin Woo spirit in the Australian community, the New South Wales Chin Woo Athletics Association, Pei-lei Wushu Center and the Eastwood Tai Chi Group are working together to hold a free Tai Chi Event at the Eastwood Mall on Tuesday at 8:30 morning, January 26, 2016.
On this special day, we welcome people of different countries, skin color and cultural background to participate and experience the inner harmony and health from the tai chi exercise.
Please visit the following websites for detailed information of the event:
www.nswchinwoo.com or www.peileiwushu.com
Please also spread the news and come to support this meaningful event.
All enquiries to Alice Dong 0414281098


The Pei-Lei Wushu Centre held an end-of-year function on Sunday 13/12/2015 at Marrickville Wilkins Public School. The event was attended by nearly 100 students and guests. Students from all classes come together to show-case their achievements with a series of wushu and tai chi performances as a meaningful event for wushu cultural promotion.
The performance program consisted of group and individual demonstrations on wushu basic movements, traditional wushu fists and weapons, Chin Woo tao-lu, bagua-palm, Yang and Chen tai chi forms. Master Alice Dong put on a spectacular double-hooks wushu weapon and bagua-palm performances in front of the guests and was rewarded with a huge round of applause.
Everyone stayed back after the event to network and to sample the finger foods and snacks brought in by the students. Group photos were then taken to end the party, and everyone is looking forward to meeting again next year.
In addition, the NSW Chin Woo Athletics Association and Pei-Lei Wushu Centre will be participating in the following 2016 Australian Day event, and the Chinese New Year Lunar Lanterns Community Programs organised by the Sydney City Council:
(1) Tuesday Jan 26, 2016 Australian Day Tai Chi Event: Pei-Lei Wushu and Eastwood Tai Chi Group will hold a free Tai Chi Event on that day at 8:30 morning in the Eastwood Mall;
(2) Thursday evening 11/02/2016: Wushu Demonstration in front of the big Dragon Head Lantern;
(3) Saturday afternoon 13/02/2016: Tai Chi Workshop at Martin Place;
(4) Sunday evening 14/02/2016: Tai Chi Demonstration in front of the Tai chi Rabbit Lantern.
Please spread the news and come to support these wushu cultural promotion activities.
All enquiries to Alice Dong 0414281098